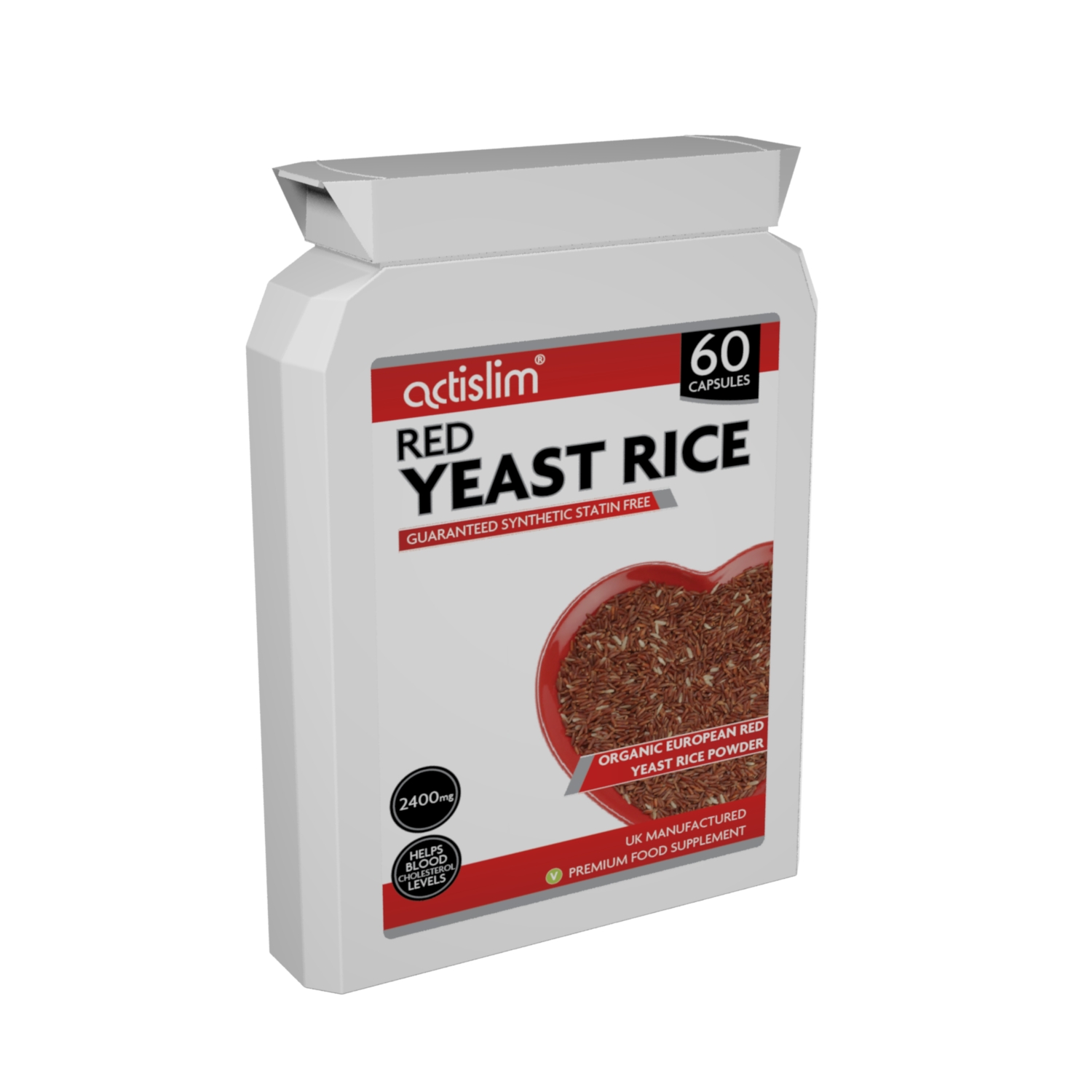 Actislim


Red Yeast Rice 2400mg

60 Capsules
Contains antioxidants to counteract free radicals
Containing Vitamin B6
Can Lower High Cholesterol
Can Help Prevent Heart Disease
Can Lower Blood Glucose
Health benefits of Red Yeast Rice
Red rice is a kind of unpolished rice which has higher nutritional value compared to white rice or even polished rice. Cooking time is generally more than white rice and it has a nutty taste and more gratifying flavor. It is fiber rich content, Vitamin B1 & B2, iron and calcium. Because of higher nutritive content as well as health advantages of red rice, it is strongly advised for heart patients as well as diabetics. Additionally it is loved by health gurus as well as fitness fanatics since it's high fiber content helps gain less weight. By consuming red rice, you can get the following nutrition and also health advantages.
Summary
1. Contains antioxidants to counteract free radicals
Red/brown rice is a great source of iron or manganese. Mangan, who was simply instrumental in producing energy for the body is a vital element of the enzyme and is also an anti-oxidant that may safeguard the body from free-radicals which are formed once the energy produced. Additionally, red/brown rice is full of zinc, a mineral that can help accelerate wound healing and maintain the body's defense mechanisms to function effectively. Just like iron or manganese, zinc is additionally full of anti-oxidants that safeguard the body from free-radicals that may damage tissues and cells within the body.
2. Containing Vitamin B6
By consuming only one serving of red/brown rice, can meet 23 percent of vitamin B6, the quantity required for the functioning of the organ. This particular vitamin is required to help balance the development of serotonin, red blood cells helping the creation of DNA cells.
3. Can Lower High Cholesterol
In 1970, human studies reported red rice's effect on reducing the blood levels of total cholesterol. The active component in red rice is monacolin K. It's just like lovastatin within the prescription drug cholesterol-lowering drug, Mevacor. In accordance with EMedtv, the United States Food and Drug Administration has ruled that simply because lovastatin is really a prescription drug, any red yeast rice supplement with a substantial dosage of lovastatin is surely an unapproved drug and not a dietary supplement. Do not take red rice in case you have liver disease, are pregnant, or are younger than 18. Side effects consist of gas, heartburn and dizziness.
4. Can Help Prevent Heart Disease
Higher amounts of low-density lipoprotein or LDL in the blood cause plaque build-up in the walls of the arteries. This particular narrows the size of the arteries and could block the coronary artery, causing a heart attack. Reducing LDL cholesterol levels reduces the chance of heart disease. A 2009 study carried out by David Becker and Ram Gordon, cardiologists at Chestnut Hill Hospital reported that LDL cholesterol levels reduced more in patients receiving red yeast rice compared to patients getting a placebo.
5. Can Lower Blood Glucose
Uncontrolled blood glucose levels in diabetics can ruin the eyes, kidneys and also the coronary heart. Controlling blood sugar levels reduces these dangers. In a animal research carried out at the Department of Food Science at the National Pingtung University of Science and Technology, Hon-Qi–a form of red yeast rice–was administered to induced-diabetic rats and also to rats with normal blood glucose levels. This was a try to create a new replacement for dealing with diabetes. The results claim that oral administration of Hon-Qi may reduce blood glucose in diabetic rats inadequate insulin.